The name of the village was derived from the Indian name for the area Kamoka, which means "resting place for slain heroes." According to Indian legend, Winona was a beautiful daughter of a Muncey chief. She was wooed by many suitors, but finally only two rivals were left. After pondering her decision for a long time, Winona met one suitor in the forest by night. The other suitor, lurking in the bushes, leaped out and attacked his rival. Both men died. Overcome with grief, Winona killed herself with a dagger. The place where the three were buried together was named Kamoka in honour of the slain rivals.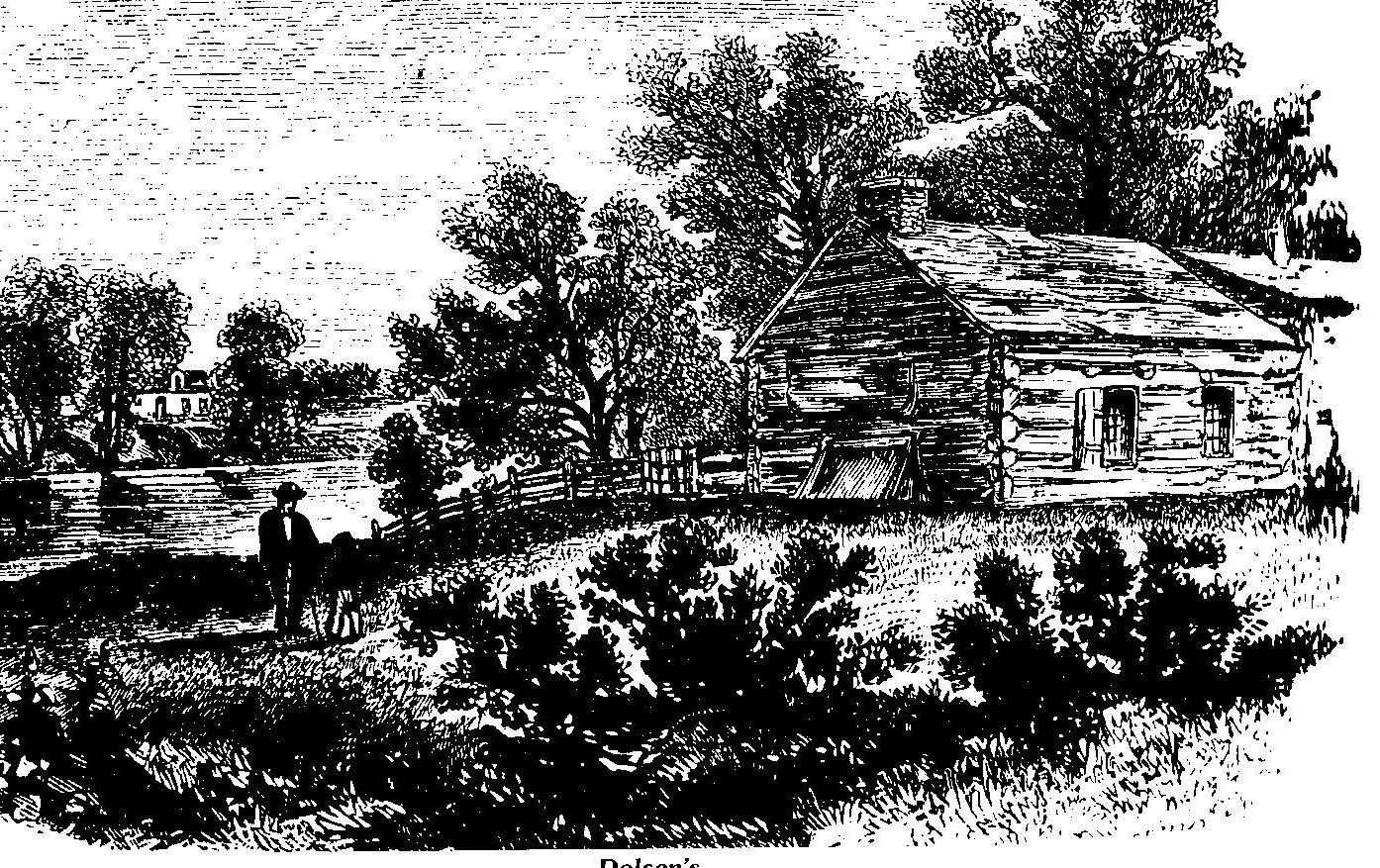 The first white settler to the area was William McKeller, who set up an inn around 1834. The routing of the Great Western Railway through the community spurred Komoka's growth and led to the opening of its post office on January 1st, 1855. By 1857, Komoka was a prospering village with a population of 700. King George V and Queen Elizabeth even passed through on the royal train. Its industries included a steam grist mill, a flouring mill, an iron foundry, extensive apple orchard, a weaver's shop, three shoemakers and a distillery. In that same year, Komoka built a red brick school house to replace its log school house. This building later served many functions including a dwelling house, a Baptist Church, the Village Hall, the Orange Lodge, and the Pentecostal Assembly. The Shipley Hotel, later known as the Junction Hotel, was an early centre of social life in the village. As early as 1854, huge water tanks supplied famous spring water for trains and were credited for attracting British troops who used the area as a summer camp on the Thames.
The early history of Komoka has included its share of tragedy. People were shot, struck by lightning, drowned, crushed, and killed in railway accidents. On February 29, 1874, a railway coach carrying fifty passengers steamed into Komoka ablaze. Nine people died in the fire and three people died later from injuries. Later due to high real estate prices and slowing rail traffic the population dwindled from 700 to 276 from 1857 to 1888.Komoka became a police village on June 12, 1915.
Today Komoka is experiencing an exciting new era of growth and prosperity fueled by the booming new home construction with builders such as Condon Homes designing and building custom houses for eager new home buyers. The appeal of Komoka's larger building lots , lower Middlesex center taxes and a wealth of local amenities and services is drawing people from London and farther afield. Amenities include multipurpose Wellness and Recreation Center, grocery store, daycare, ambulance center, restaurants, parks, soccer fields, dog parks, railway Museum, Educational opportunities include the award-winning Parkview Public School, Medway High School , Catholic schools would be our Lady of Lords and St. Thomas Aquinas Secondary School . Proximity to Komoka Park, Thames River, Longwoods Road Conservation Area and Ska-Nah-Doht Village & Museum, Delaware Conservation Area ,Sharon Creek Conservation Area, Oxbow Glen Golf Club , Fire Rock Golf Club, Twin Streams Golf Club, Oaks Golf and Country Club and West Haven Golf Club provide for plenty of outdoor recreational activity.
From the new homes on Prince Street Komoka it is only 7miles to Commissioners Road in Byron, 2.6 miles to Jefferson Road & Glendon Road, Kilworth, from the Oxbow Road and Union Street intersection Komoka it is 4 .5 miles to Poplar Hill ,10 miles to Hyde Park Road & Gainsborough Rd,16.2 miles to Masonvile London @ Richmond & Fanshawe Road and 15 .2 miles to the Universty of Western Ontario. From Komoka's Wellness Center to Mount Brydges @ Adelaide Road & Glendon Drive is 8 miles .Ilderton @ Ilderton Road & King Street to Komoka @ Valleyview & Oxbow is 18 miles. F and Recreation Centre rom the four corners in Komoka near Bank of Montréal \Tim Hortons (GlendonDrive & Komoka Road)to Hickory Drive Strathroy is 9.9 miles ,to Gideon Drive & Mill St. Delaware 4.2 miles and 2 miles to the 401exit.
By 2018, it is projected that 70,000 people will live within a 10 km radius of the Middlesex Centre Wellness and Recreation Centre in Komoka .
{ Comments on this entry are closed }